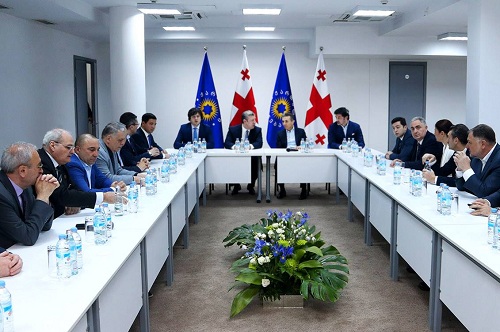 Irakli Kobakhidze, Giorgi Kvirikashvili, Bidzina Ivanishvili and Kakha Kaladze (back row), April 26, 2018. Photo: facebook.com/KvirikashviliOfficial
Ex-Prime Minister Bidzina Ivanishvili, who founded the Georgian Dream-Democratic Georgia party in 2012, will return to the helm of the party, the incumbent chairperson, PM Giorgi Kvirikashvili, announced at a press briefing today.

Ivanishvili, who left the party chairmanship on November 24, 2013, shortly after his resignation from the prime ministerial post, will be approved by the upcoming party congress (scheduled tentatively for May) together with the new composition of GDDG's 21-member political council.

Speaking at today's briefing, convened after the meeting of Georgian Dream's party and parliamentary leaders, PM Kvirikashvili said the interest concerning the "ongoing processes" in the ruling party was "natural and legitimate," and added that the public required "clarity."

"We, as the party in power, feel responsible before the country and the people, and consider that there is a necessity of strengthening and solidifying the Georgian Dream-Democratic Georgia party against the backdrop of new challenges facing the country," Kvirikashvili said.

The Prime Minister also stressed that it was important to "maintain unity over fundamental questions" within the ruling party, and that Bidzina Ivanishvili's role as the party founder "was clear to everyone."

"He is best equipped to strengthen the political team in his capacity as the party chairperson and to add more and new dynamism for further development, [and contribute to] more effectiveness and more progress to executive and legislative branches, as well as municipal bodies," he added.