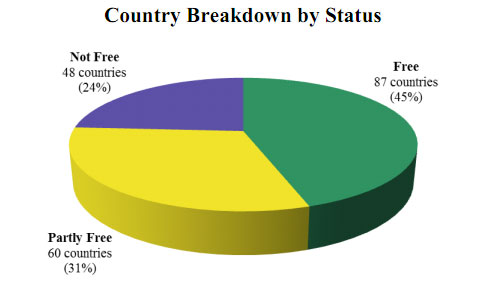 Breakdown of countries by their status of 'free', 'partly free' and 'not free'. Source: Freedom House
Georgia's indicators in an annual report by the U.S.-based rights group, Freedom House, remained unchanged and the country is still deemed "partly free".
Freedom in the World 2012 examines the political and civil rights in 195 countries and in number of disputed territories around the world and covers developments in 2011. Each country or territory is given a status "free", "partly free" or "not free" based on points in political rights and civil liberties categories on a scale from 1 to 7 with 1 representing the most free and 7 the least free.
Georgia's score in both political rights and civil liberties categories remained unchanged and like in previous report covering 2010 stands at 4 and 3, respectively.
"In Georgia, President Mikheil Saakashvili continued to face criticism for his apparent efforts to marginalize potential opposition figures," the report reads.
In the latest report Georgia still remains without a status of "electoral democracy" – the status, which Georgia lost in Freedom House's 2009 survey covering developments of previous year, when Georgia held parliamentary and snap presidential elections.
The report by Freedom House also ranks breakaway South Ossetia and Abkhazia under the category of "disputed territories." Like in previous reports South Ossetia is ranked as "not free" and Abkhazia as "partly free."