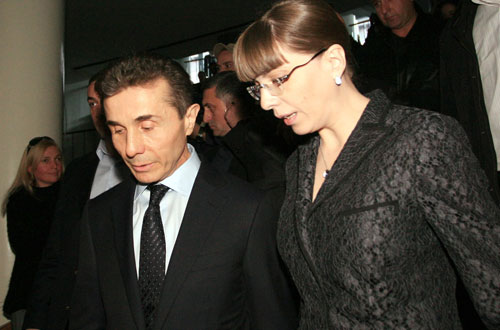 Bidzina Ivanishvili and his wife, Ekaterine Khvedelidze, seen after the inaugural session of the billionaire politician's public movement, Georgian Dream, in Tbilisi on December 11, 2011. Photo: InterPressNews
President's administration has no intention to appeal a ruling of Tbilisi City Court ordering restoration of Georgian citizenship to billionaire opposition politician Bidzina Ivanishvili's wife, President Saakashvili's spokesperson, Manana Manjgaladze, said on January 24.
On December 27, the Tbilisi City Court partly upheld a presidential order number 602 stripping Ivanishvili of his Georgian citizenship, but in the same judgment the court also said the part of the same presidential order, which revoked citizenship of Ivanishvili's wife Ekaterine Khvedelidze, was illegal.
Earlier this month, when it was not yet clear whether the president's office was going to appeal the ruling or not to the higher court, Khvedelidze requested the Tbilisi City Court to order an immediate enforcement of its judgment on the grounds that she was intending to run for the parliamentary elections in October. Khvedelidze cited that in case of appealing the ruling by the president's office the court proceedings could have lasted for over a year effectively barring her to run for parliament.
Ivanishvili tries to regain Georgian citizenship for himself through naturalization. He submitted relevant papers to the authorities on January 5. According to the law on citizenship, the authorities have maximum of three months to respond to the application on citizenship.
Ivanishvili said on January 15, that he was sure he would regain his Georgian citizenship allowing him to personally establish and lead a political party, but if not he was considering as a plan B that his wife would do that on his behalf.
Also this month, Ekaterine Khvedelidze became an owner of a company, which holds a license to carry out news broadcasting via cable and satellite. Ivanishvili's press office said on January 20, that the new TV channel would be launched in the nearest future. If Ivanishvili will have to put in practice his plan B and assign her wife in charge of establishing his planned political party, Ekaterine Khvedelidze, will have to formally distance from TV channel, as law bans a political party official to at the same time be a holder of broadcast license.