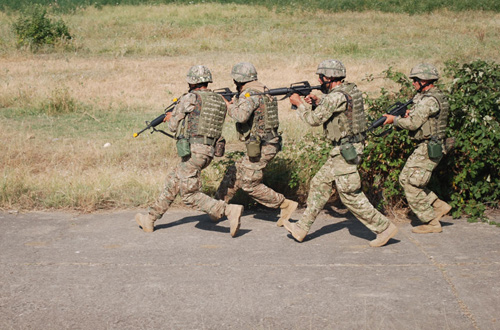 Georgian soldiers from the 42nd light infantry battalion of the 4th Brigade run during a demonstration for the press at Vaziani training area outside Tbilisi during the Agile Spirit 2011 joint trainings with the U.S. Marines on July 22, 2011. Second drills in series of annual Agile Spirit exercises were launched at Vaziani on March 10, 2012. Photo: Civil.ge
Russia's Foreign Minister, Sergey Lavrov, said that ongoing joint U.S.-Georgian military exercises "seems somewhat provocative" and that he had raised this "serious issue" when he met with U.S. Secretary of State Hillary Clinton earlier this week in New York.
He was apparently referring to two-week long Agile Spirit 2012 drills launched outside Tbilisi on March 10.
Speaking at a session of Russia's lower house of Parliament, State Duma, on March 14, Lavrov said that the Russian side inquired with the U.S. officials about President Saakashvili's statements about deepening defense cooperation with Washington.
"He [Saakashvili] was in Washington not long ago [in late January] and after talks with Obama he said, that the U.S. would restore in its full capacity military cooperation with them [Georgia]. We have asked Americans and it turned out that he [Saakashvili] has exaggerated perceptions of what he actually heard [at the meeting with President Obama]," Lavrov said.
"I met with [the U.S. Secretary of State] Hillary Clinton [in New York on March 12] and raised another serious issue – the U.S.-Georgian military exercises are starting," Lavrov said. "Scenario of the exercises is suppression of rebellion. It seems somewhat provocative."
Commenting on Lavrov's remarks, Secretary of Georgia's National Security Council, Giga Bokeria, said on March 14, that it was "cynical on the part of the country, which occupies 20% of Georgia's territory, which carried out ethnic cleansing and permanently poses threat to our country's sovereignty and statehood, to express concern over our close cooperation with our strategic partners."
"It is not their [Russian authorities'] business," Bokeria said.
"The defense and security cooperation between Georgia and the United States is deepening and it will continue; neither Mr. Lavrov nor the entire Russian government can influence it," he said..
"I want to emphasize, that this cooperation is not directed against anyone," Bokeria continued. "Of course, this cooperation strengthens Georgia's self-defense capabilities and deepens our interaction [with the international community] over tackling international challenges."
He also said that remarks like those of Lavrov were "cynical" especially against the background of Russia's refusal to reciprocate Georgia's unilateral non-use of force pledge.
Bokeria also criticized setting preconditions by Russia for reciprocating to Georgia's unilateral decision to lift visa rules for the Russian citizens.
"The Russian authorities had – theoretically they still have – a chance to reciprocate with a similar move, instead of resorting to demagogy and instead of looking for pretexts to justify their refusal to ease life of ordinary Georgian citizens," Bokeria said.