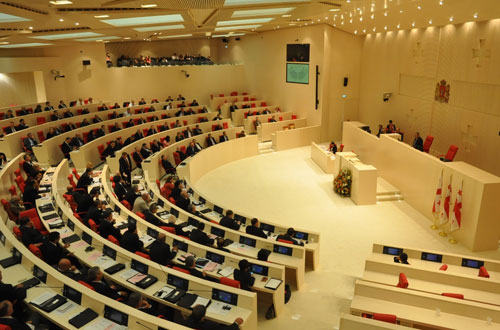 Newly elected lawmakers hold inaugural session in new Parliament building in Kutaisi, October 21. Photo: Parliament's press office.
Georgia's new Parliament, elected in the October 1 parliamentary elections for a four-year term, held its inaugural session in new, glass-dome chamber in Kutaisi on Sunday.
The first session of the new Parliament was opened by President Saakashvili's speech in which he spoke of need to have constructive working relations between Georgian Dream coalition and his United National Movement (UNM) party despite having differences on "economic policies, fight against crime and corruption, regional development, civil and minority rights, as well as on culture and foreign policy issues."
When Saakashvili entered the chamber, lawmakers from the Georgian Dream did not stand to greet him – the move criticized by some of the UNM members.
Georgian Dream leader and PM designate Bidzina Ivanishvili said that after the tense campaign such attitude was not a surprise; "it's normal," he said. "We have yet to heal [wounds] inflicted by their [authorities'] violence over the past year… It's hard to forget it... We should avoid any confrontation and we should spare no effort to cooperate and to serve the country," Ivanishvili told journalists.
After the President's speech, the Parliament confirmed credentials of all of its members; formed factions; elected new parliamentary speaker and vice speakers and filled the posts of committees' chairpersons.
In the new Parliament the Georgian Dream has 85 seats – 15 short of two-third majority required for passing constitutional amendments; UNM endorsed 65 members in the legislative body. But as it seems, this configuration started to change on the very first session of the new Parliament.
60 lawmakers have joined the parliamentary minority group made up of UNM MPs.
Five majoritarian MPs, who were running in the October 1 parliamentary elections in single-mandate constituencies as UNM members, refused to join the parliamentary minority group.
Georgia's past parliamentary experience shows that majoritarian MPs, especially those who are not actively engaged in political life, are more inclined towards cooperating with a governing party.
"I have commitments before my voters… So to fulfill these commitments I have to act independently… This is not about being against anyone," said MP Goderdzi Bukia, one of those five lawmakers who did not join the parliamentary minority although running in their respective constituencies as UNM candidates.
Another such lawmaker, Gogi Liparteliani, told journalists: "We [these five MPs] are a group of lawmakers and co-thinkers, who are not members of any political party and who have decided to work independently and we will support all the proposals that we think are fair no matter whether they come from [parliamentary] majority or minority."
Other three MPs, who did not join the parliamentary minority group, are: Kakha Okriashvili, a majoritarian MP from Dmanisi and a co-founder of Georgia's one of the largest pharmaceutical chains PSP; Enzel Mkoian, a majoritarian MP from Ninotsminda and Sergo Khabuliani, a majoritarian MP from Tsageri.
Media sources were reporting on October 21, that this group of MPs was trying to attract at least one more lawmaker from UNM in order to increase their number to six, which will allow them to form a faction.
Parliament majority, consisting of Georgia Dream coalition members, is made up of representatives of nine political parties. These are six parties which are coalition members – Ivanishvili's Georgian Dream-Democratic Georgia; Our Georgia-Free Democrats; Republican Party; Conservative Party; National Forum and Industrialists; plus three parties, which are not formally members of the coalition, but had their leaders on the Georgian Dream's part-list: Party of People (actually defunct party); Greens Party and Social-Democrats.
The newly elected Parliament is expected to confirm new cabinet and PM designate Bidzina Ivanishvili at a session on October 25.