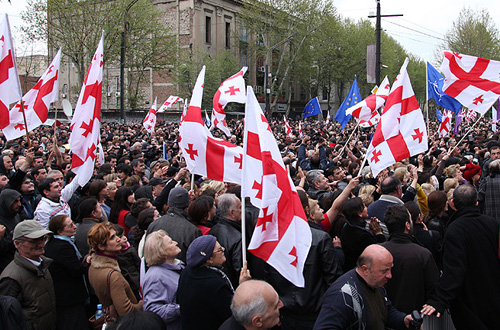 Protesters hold NATO, EU and Georgian flags during UNM rally on Rustaveli Avenue in Tbilisi on April 19. Photo: Guram Muradov/Civil.ge
Less than seven months after defeat in the parliamentary election, formerly the ruling party United National Movement (UNM) drew over ten thousand supporters in Tbilisi center on April 19 with its leaders speaking of party's "renewal" and launch of a new campaign which they dubbed as "new national movement."
The rally, which formally was held under the banner of defending Georgia's pro-western foreign policy course claimed by UNM to be endangered under PM Ivanishvili's government, was viewed largely as an attempt by President Saakashvili's party to demonstrate that despite of its defeat in last year's elections, it won't suffer the fate of those parties which were disappearing from the political scene after losing power, like it happened to ex-president Eduard Shevardnadze's Citizens Union after the Rose Revolution.
The rally was also regarded as an attempt by the UNM to demonstrate that it still remains the force to be reckoned with and which is capable of mobilizing supporters in the street – something that has always mattered for any opposition in Georgia.
In his speech at the rally UNM parliamentary minority leader, Davit Bakradze, said turnout of, as he put it, "tens of thousands" at the demonstration was showing "that rumors of our death have been exaggerated."
Many speakers at the rally were often repeating about the launch of "new national movement" to defend, as UNM leaders were putting it, "Georgia's freedom and European choice."
The term "national movement" – erovnuli modzraoba in Georgian, (Georgian for United National Movement is Ertiani Natsionaluri Modzraoba) – is usually associate with mass independence movement that unfolded in Georgia in late 1980s against the Soviet rule.
UNM MP Giorgi Vashadze, who acted as a presenter at the rally, said that UNM would launch an active campaign, including in the provinces, to deliver in each and every family "renewed" UNM's message of new national movement, which, he said, was based on three principles: freedom of united Georgian state, personal and economic liberties and "new vision of Georgia's role and capabilities in globalized world."
In their speeches senior UNM figures were also often repeating message of "renewal", saying that the party was now "different" from what it was previously, with gained new experience based on lessons learned from its own mistakes.
"Tens of thousands of people are gathered here today, but even more are at homes, who are concerned and disappointed with the policies of the new government, but are still hesitant to support the National Movement party; they say: 'I don't like the current government, but should I support the old one?'," MP Davit Bakradze told the rally.
"I want to tell all those people: Yes, you should support the National Movement, because today's National Movement is a different party with renewed energy, new blood and new vision, the party, which has learned from past mistakes," Bakradze said and added that "at last Georgia has strong, constructive, responsible and patriotic opposition."
UNM secretary general and former PM Vano Merabishvili also mentioned "mistakes" in his speech and said that the party would "learn on its own mistakes". He also said that while being in power UNM "created new state", but failed to resolve the problem of unemployment.
"From this day on, the National Movement's major task will be to maintain jobs for those who already have it and to force the government to create new jobs and if it fails to do it, we will replace the government, we will come into power and our major goal will be to have not a single unemployed in Georgia," Merabishvili said.
Tbilisi Mayor, Gigi Ugulava, told the demonstration that the April 19 rally marked "the birth of new opposition, new national movement and new European Georgia."
He also said that UNM "maybe made mistakes over many issues", but defeat in the October elections also had a positive side as it helped to reveal those people within UNM who were with the party just for personal gains and switched sides after the defeat in elections.
Ahead of the planned rally, UNM was hit with allegations voiced against party's secretary general Vano Merabishvili by his former subordinate and senior interior ministry official Data Akhalaia, brother of former defense and interior minister Bacho Akhalaia, who is facing trial for multiple criminal charges. The both were close allies of President Saakashvili, but after Data Akhalaia leveled allegations against Merabishvili, UNM leadership, including President Saakashvili, made remarks suggesting that they were distancing themselves from Akhalaia brothers.
In speech at the rally President Saakashvili also mentioned the issue of former allies and said: "Yes they [referring to current government] bought some lawmakers [apparently referring to those MPs who quit UNM]… but these people and this society [referring to the demonstrators] is not for sale; society is what matters in Georgia and not those separate traitors and rats who have ran away."
Speaking to Rustavi 2 TV's political talk show late on April 19, Merabishvili said that split with Data Akhalaia was not "a serious political problem at all". He said that there was unity within the UNM's current leadership.
Before the start of the rally, it was announced that Merabishvili was going to make the closing speech at the demonstration. The plan, however, was changed, apparently after the President showed up at the rally. It had remained unclear whether President Saakashvili, who is the chairman of UNM, was going to show up or not. Saakashvili appeared about halftime of the two-hour long rally and made the closing speech just right after Merabishvili's address.
In an interview with Rustavi 2 TV, Merabishvili denied speculation that Saakashvili's decision to appear at the rally upset him, prompting him to leave the demonstration without even waiting for the end of Saakashvili's speech.
"Saakashvili is my friend; we are friends and I guarantee that we will remain friends," Merabishvili said.
The rally dispersed peacefully at about 6pm local time on Friday; no incidents were reported.
One of the Georgian Dream leaders, parliamentary chairman Davit Usupashvili said in an interview with RFE/RL Georgian service few days before the April 19 rally, that "survival" of UNM and "keeping the former ruling party within the political spectrum is the task of the Georgian democracy."
He said that individual members of previous government and UNM should face justice for alleged specific crimes and how UNM withstands this challenge, as well as internal wrangling, which he said, was ongoing within UNM, it was an issue that should be tackled by the party itself.
"But I wish its [UNM's] healthy part to survive unharmed from this process," Usupashvili added.
Asked during an interview with Imedi TV's political talk show late on April 19 about UNM's attempts "to rebrand" itself and win back public support, Interior Minister Irakli Garibashvili responded there was no chance of it.
"This is a discredited party which tries in vain to revive its image – it's like trying to resurrect Lenin," Garibashvili said.
GD lawmaker, Eka Beselia, who chairs parliamentary committee for human rights said on April 19 while commenting on UNM's rally: "It is comical, to say the least, Vano Merabishvili speaking about European values from the very same venue [on Rustaveli Avenue] where they were violently breaking up protest rallies, most recently on May 26 [2011 when Merabishvili was the interior minister]."
On April 22 U.S. National Democratic Institute (NDI) will release results of its commissioned polls, fielded in second half of March, which will show how ratings of political parties have changed, if at all, since the previous similar poll in November.