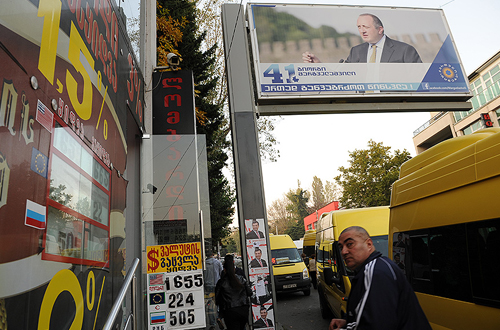 GD presidential candidate Giorgi Margvelashvili's campaign billboard seen in Tbilisi's Varketili district on October 16. Photo: Eana Korbezashvili/Civil.ge
Georgian Dream's presidential candidate Giorgi Margvelashvili said he will pull out from race if the October 27 election goes into runoff.
Announcement came hours after PM Bidzina Ivanishvili said earlier on October 17 that he's sure there will be no second round, but in case there is one, he would advise Margvelashvili to withdraw from the race.
Margvelashvili also stressed that he is sure about winning the presidential race in the first round.
"There will be no second round, because that's impossible according to available [polling] statistics," Margvelashvili told journalists during one of his campaign events on October 17.
"But if a miracle happens and the Georgian voters do not turn out at polling stations and if there is a second round, I do not see a reason to actively remain in the politics; in that case there is no reason to implement those goals which Bidzina [Ivanishvili] and I are talking about and which were jointly envisioned," he said.
"There is no possibility for the second round, but in case of a miracle, I will not take part in the miracle," Margvelashvili added. "There will be no second round, but if such an anomaly takes place, I will not take part in this anomaly and the second round."
Speaking at a news conference on October 17, PM Ivanishvili, who plans pre-term resignation after the election, said that garnering less than half of the votes in the first round will mean that the public has "doubts" over GD's policies and in that case he would prefer Margvelashvili to withdraw from the race.
"To say the truth I can't recall any such case in practice," said Tamar Zhvania, chairperson of the Central Election Commission (CEC), referring to a scenario if a candidate withdraws from the second round. "But if it really happens, the second round will anyway be held, as envisaged by the law, and a winner will be the remaining candidate; there is no [minimum required] threshold of votes for a candidate to win the second round."
Commenting on PM's remarks earlier on October 17, UNM presidential candidate Davit Bakradze said: "I hope that in case of the runoff Mr. Margvelashvili will participate and I hope we, me and him, will have a healthy competition in the runoff."
"If there is a runoff it will be the choice of the Georgian voters and it will be good for the Georgian democracy so I do not see any tragedy in that," Bakradze added.
Presidential candidate Nino Burjanadze, leader of the Democratic Movement-United Georgia, said GD's such an approach towards the second round, which she says is inevitable, is not serious.
One of the most recent, publicly available independent opinion poll is from late August, commissioned by NDI, which showed Margvelashvili in lead with Bakradze and Burjanadze trailing far behind; but the combined 26% of those who were undecided or refused to answer or were saying that they had no preferred candidate at all, was large enough to determine both the final results of the first round and whether there will be a second round or not. According to the same poll Margvelashvili was winning with large margin in runoff whether facing Burjanadze or Bakradze.
But PM Ivanishvili, citing GD-commissioned polls, claims that winning over 60% of votes for Margvelashvili is "realistic"; he, however, also says that in order it to happen there should be a high voter turnout.
But Burjanadze says that Ivanishvili is wrong when saying that second round is impossible.
"The reality is completely different. Margvelashvili really has no 60% support and it is even visible from the Georgian Dream and it is visible from batoni Bidzina's remarks. He knows that elections will go into runoff and is trying hard to convince people to vote for Margvelashvili. Let's wait for ten more days and batoni Bidzina will see that he's wrong. He is misled by his team… There will definitely be a second round, which would not have been required if not the pressure exerted on voters and local authorities in the provinces. I can tell you with 100 percent guarantee that there will definitely be the runoff between me and Margvelashvili in which I will win. The only problem might be total ballot fraud, which I hope the authorities will not resort to, but if the will, we will disrupt it," Burjanadze said.
Commenting specifically on PM's remarks that over 60% is realistic for Margvelashvili, Burjanadze said: "As it seems batoni Bidzina does not analyze that such remark is being perceived as a direct order" from the PM to subordinates and local officials in the provinces to have exactly that figure in election results.
UNM's Davit Bakradze also criticized PM for making such remarks.
"Saying it means that they have a very specific order and a target about what the election result should be; when there is such a target it increases probability of ballot fraud and pressure, so I think making such remarks and setting such targets by an official ahead of elections is inappropriate and dangerous," Bakradze said.
Commenting on PM's remarks about the second round, outgoing President Saakashvili said: "When flock of sheep turns round, a lame sheep appears in the front line – this is an old folk wisdom… and that's just what we are witnessing now."