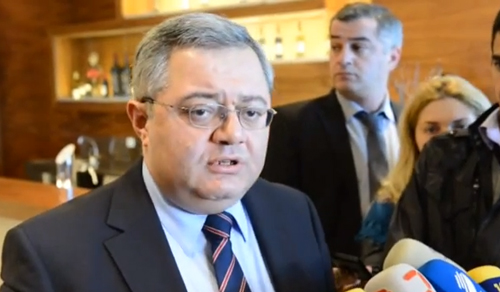 Parliament speaker, Davit Usupashvili, speaks with journalists on October 18.
Parliament speaker, Davit Usupashvili, said that GD presidential candidate Giorgi Margvelashvili's remarks about intention to pull out from race in case October 27 election goes into second round, were "metaphorical" and they should not be taken literally.
"Giorgi Margvelashvili remarks about the second round, I think, was a pure metaphor; it indicates, on the one hand, on his confidence in winning the race in the first round, and on the other hand it indicates on his stance towards the presidency in general that he has not been dreaming about becoming the president from birth, but he is ready to assume this duties if the people give him confidence vote and that's right,
"That was more a metaphor rather than showing that he plans something else," Usupashvili said.
Hours after PM Ivanishvili said on October 17 that he would advise Margvelashvili to withdraw from the race if election goes into second round, Margvelashvili said: "There will be no second round, but if such an anomaly takes place, I will not take part in this anomaly and the second round."
Margvelashvili also said: "There is no possibility for the second round, but in case of a miracle, I will not take part in the miracle,"
Usupashvili said that PM's remarks "were a metaphor too, which do not mean that it will actually happen."
He said that many presidential candidates voice "in various forms" their stance and expectations about possible vote results, but it does not mean "that we should take all those words literary."
Later on the same day, Usupashvili reiterated that remarks by Margvelashvili and Ivanishvili were indicating on their confidence that the GD presidential candidate will win the race without requiring runoff. "And I share this confidence," Usupashvili said.
"So conveying this message through various forms – including by saying 'I would advise him [not to run] if there is a second round' or 'I will not run in the second round' – represents a description of their stance and does not represent a plan or decision," Usupashvili said.
"I state with full responsibility that the Georgian Dream coalition has no such decision," Usupashvili continued. "I am convinced of our candidate's victory and it is up to the people decide whether there will be or not the second round."