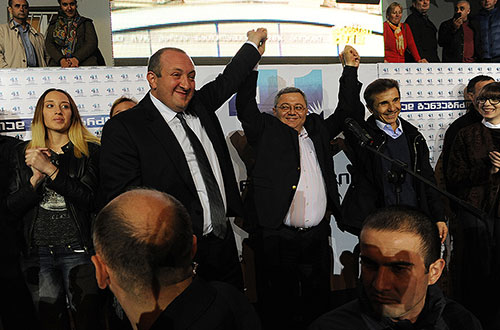 GD's Giorgi Margvelashvili, parliamentary speaker Davit Usupashvili and PM Bidzina Ivanishvili greet supporters gathered outside GD headquarters in downtown Tbilisi after exit poll results in October 27 presidential election were announced. Margvelashvili's daughter, Anna, seen on the left next to his father and Ivanishvili's wife Ekaterine Khvedelidze seen standing on the right next to the PM. On the left, next to Margvelashvili Photo: Eana Korbezashvili/Civil.ge
Addressing jubilant supporters outside his campaign headquarters in downtown Tbilisi, GD presidential candidate, Giorgi Margvelashvili, whom exit polls give outright victory in Sunday's vote, thanked PM Bidzina Ivanishvili for "making this victory possible."
After thanking his campaign staff and the Georgian Dream coalition he said that he wants to thank "a man, who is and will always remain a very serious authority for me, my friend, Bidzina Ivanishvili."
"Bidzina made last year's victory [in parliamentary election] possible, Bidzina created our unity and this unity created today's victory. Thank you Bidzina," Margvelashvili said.
Standing next to Ivanishvili and parliamentary speaker Davit Usupashvili, Giorgi Margvelashvili also told supporters: "We have demonstrated to the entire world that the free nation elects freely its leadership, those persons, who should serve this nation."
PM Ivanishvili, who is going to step down after new president's inauguration, told supporters outside GD headquarters less than an hour after the polling stations were closed and exit poll results announced, that with Sunday's vote "we have proven that we are not less than Europeans".
"We put our ancient tradition into practice and demonstrated that we are balanced, we are Europeans," said Ivanishvili.
"Our huge victory, you should know it, is that we will become members of the most successful nations within next twenty years. If there is anyone successful in the world, Georgia will be among them – I assure the Georgian people about it. But we need little bit more patience. Next year will be for calming down," Ivanishvili said.
He said that he was always sure about Margvelashvili's outright victory without requiring second round. He, however, said that the second round would have been "a tragedy" for him not because of run-off contest itself, but because, as he put it, "the second round would have showed that the Georgian people have no sense of gratitude."
"And that's what I did not want to happen," Ivanishvili said.
He said that he was feeling "offended" when skeptics, critics or pundits were asking him about possible second round or who thought that second round was possible.

Parliamentary speaker, Davit Usupashvili, who also spoke before supporters outside GD headquarters, said: "Batoni Bidzina Ivanishvili gathered us [referring to the Georgian Dream coalition] as the army and this army now should continue struggle for building the country."
"Giorgi [Margvelashvili] will be Georgia's President, he will be everyone's president and that will be the difference that we want to show to the country. He will be different President, like today's election was different from every previous vote in Georgia," Usupashvili said. "We continue our work for our homeland from tomorrow."