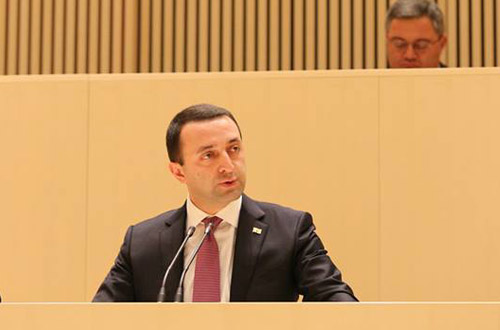 PM Irakli Garibashvili speaks in parliament chamber on November 20. Photo: Garibashvili's press office
31-year-old Irakli Garibashvili was confirmed by the Parliament on November 20 as Georgia's new Prime Minister with 93 votes to 19.
The vote marked the end of Bidzina Ivanishvili's tenure as PM; he has voluntarily departed from office after serving for one year and twenty five days.
Ivanishvili's long-time close associate Garibashvili became holder of the most powerful political office in the country as the new constitution shifted power from president to PM and the government.

The only newcomer in the government is Alexandre Tchikaidze, 28, who will replace Garibashvili on the post of interior minister.
Other ministers retained their posts:
Minister of Finance – Nodar Khaduri;
Minister of Economy and Sustainable Development – Giorgi Kvirikashvili;
Minister for Labor, Healthcare and Social Affairs – Davit Sergeenko
Minister for Infrastructure and Regional Development – Davit Narmania;
Energy Minister – Kakha Kaladze;
Minister of Justice – Tea Tsulukiani;
Minister of Foreign Affairs – Maia Panjikidze;
Education Minister – Tamar Sanikidze (she replaced previous education minister Giorgi Margvelashvili, who is now the president, in July 2013);
Minister in charge of IDPs issues – Davit Darakhvelidze;
Minister of Environmental Protection – Khatuna Gogoladze;
Minister of Defense – Irakli Alasania;
Minister of Agriculture – Shalva Pipia (he replaced previous minister Davit Kirvalidze in spring, 2013);
Minister in charge of penitentiary system – Sozar Subari;
Minister of Culture and Monument Protection – Guram Odisharia;
Minister of Sports and Youth Affairs – Levan Kipiani;
State Minister for European and Euro-Atlantic Integration – Alexi Petriashvili;
State Minister for Reintegration – Paata Zakareishvili;
State Minister on the Diaspora Issues – Kote Surguladze;
Garibashvili started his speech at the parliamentary session before the vote by thanking Ivanishvili for "playing an important role in Georgia's political life and for peaceful change of government through elections" and for "carrying out fundamental changes in the country."
"Batoni Bidzina has kept his word: he set the country free from regime and has quit the politics in dignity," Garibashvili said.
Ivanishvili made his last public appearance in his capacity of prime minister on November 20 when he attended jointly with Tbilisi Mayor Gigi Ugulava opening of a monument of a Georgian actor Ramaz Chkikvadze in the capital city.
On November 24 Georgian Dream-Democratic Georgia, party founded by Ivanishvili will hold a congress, which is expected to elect Garibashvili as its chairman.
"He quit the post, but he has not quit the politics – these are [President] Margvelashvili's words; we should pursue policies in a way that will not make him go into opposition, otherwise we have all seen very well what does it mean when he's in the opposition," MP Davit Saganelidze, the leader of the Georgian Dream parliamentary majority group, said in his speech during cabinet confirmation hearing.
Parliamentary chairman, Davit Usupashvili, said that departure of Ivanishvili from the PM's post means increased responsibilities for GD coalition and each cabinet member.
"From now on we are assuming special responsibility, because we – parliamentary majority members and each cabinet member – are assuming responsibility before the people actually from today," Usupashvili said.
UNM lawmakers, who voted against, said the government is "self-satisfied, although it has no reason for that" because of shortfall in tax revenues and economic slowdown.
Before the vote and debates, question and answer session was held, which was different from what was a day before when Garibashvili appeared before UNM parliamentary minority group, when the hearing turned into heated debate dominated by mutual accusations. UNM lawmakers were asking without even voicing any criticism very specific, issue-based questions from government's program, which Garibashvili read out in his presentation at the parliamentary session. But in his answers Garibashvili was often pointing finger at UNM, accusing, although not as sharply as a day earlier, previous government of various misdeeds.
Most of the questions asked by UNM lawmakers were about economy, among them about main challenges to microeconomic stability; what should be share of government spending in overall GDP to achieve government's declared goal of having "small and efficient government"; what specific legislative amendments the government plans to introduce to "improve investment climate" as stated in the program; what state assets government plans to privatize and how much it plans to receive from privatization in next few years; what might be Georgia's comparative advantage in regional and global economy.
Garibashvili started responding to these questions by saying: "As far as your alarm and concern about 'economic decline' is concerned, I think that we don't have any disastrous situation. IMF… assessed that there is revitalization in economy in recent months, so there is no disastrous situation."
"I am not here to criticize you," he told UNM lawmakers, "but I remember very well how you were saying that crime is on rise and everything is being ruined, but in fact there is nothing disastrous. There was certain slowdown in economy, but it is easily rectifiable."
"Our team is so efficient that we will resolve these problems very easily," he said, adding that one of the main reasons of economic slowdown was tense political cohabitation.
He then called on UNM lawmakers "not to scare off investors" by portraying situation in a negative light.
"There was a slight downward [trend], but it is rectifiable. Situation was much worse after and before [the August, 2008] war, but you were borrowing external debt, whether through Eurobonds or other means, but we are not talking about it now, we do not want to be focused on the past, we want to think about the future; we do not want to permanently criticize you. Now you are in a very uncomfortable situation, because whatever you ask we can give you a comprehensive answer," Garibashvili told UNM lawmakers.
He said that while the previous government was delaying bilateral investment protection treaty with about 30 countries, the current one is in the process of signing those agreements.
He said that questions about specifics and details of laws "are not serious." He said if such specific questions aim at testing his knowledge of details of certain laws, "it's not serious."

On share of government spending in overall economy, Garibashvili said it should not exceed 30%.
On a question which country he thinks might be a model for Georgia's economic development, he said: "There are many countries whose examples might be followed, but we are not going to go down the Singaporization path."
Asked by UNM about his stance over Parliament's decision suspending sale of agriculture land to foreign nationals till the end of 2014, Garibashvili responded that this moratorium would soon be removed.

UNM MP Petre Tsiskarishvili asked about the foreign policy in the context of Russia's "pressure and blackmail" on Ukraine ahead of the Eastern Partnership summit in Vilnius. He said that after Georgia initials the Association Agreement at the summit next week, Russia is expected to mount its pressure on Georgia to force Tbilisi to give up its European aspiration.
Garibashvili responded: "Our foreign policy course is a choice of our people… We believe that it is the only right path and Georgia future is only in the EU and NATO aspiration. Of course it might not happen today or tomorrow, but we should move towards this goal consistently... We should strengthen democratic institutions and prove to the civilized world that we really deserve to be EU and NATO member country."
"I do not see any risks. You mentioned example of Ukraine and Moldova. They depend on Russia more than we do... But I have to remind you once again that it would have been better if you had been more critical towards your own team in its time, when you were selling lots of strategic facilities to Russian companies," Garibashvili said. "So there is no change in the foreign policy and we will firmly continue moving towards the EU and NATO."
During the debates senior UNM lawmaker Giorgi Gabashvili said that Garibashvili's "self-opinionated" stance, downplaying obvious problems and blaming everything on predecessors is a way into "spiral of unsuccessfulness."
"You will fail to be successful with such stance; you remain hostages of myths created by you and fail to face the truth, claiming that everything is ok; not everything is ok," he added.
In his speech parliamentary chairman, Davit Usupashvili, stressed about the need of keeping the government under parliament's scrutiny. He also spoke about the need of unity within the society regardless of political views.

Referring to the UNM party, Usupashvili told GD parliamentary majority: "We should get rid of an opinion that it is our duty to educate someone and to put someone on the right track. That's mission impossible. That's not the right task. But on the other hand just look how much progress has been made in one year; I think our colleagues [from the UNM parliamentary minority group] are sincere when saying that the opposition rights should not be violated, that it is inadmissible to terrorize business, that media and the judiciary should be free. This is enough progress and do not expect more."
"If we promised to the people that we will be unifying [force] for the nation, then we should also agree that unity means union of both those who are 'right' and those who are 'wrong' – depending from where you look. The nation is one whole and if we start unifying only those whom we think are right that will mean going down the same wrong path, which we want to avoid. The right criteria are: rule of law, irreversibility of punishment [for crimes] and presumption of innocence. By observing these principles we will be able to unite and also to tackle all the problems," Usupashvili said.
But in his speech GD parliamentary majority leader, Davit Saganelidze, struck his usual radical tone by telling parliament speaker it was early to speak about progress in respect of UNM.
"I do not want to speak about the past, but before you [referring to UNM MPs] don't bow your head before the society and don't apologize before the society for what you have done over the past nine years, we will probably have to speak about the past often," MP Saganelidze said.