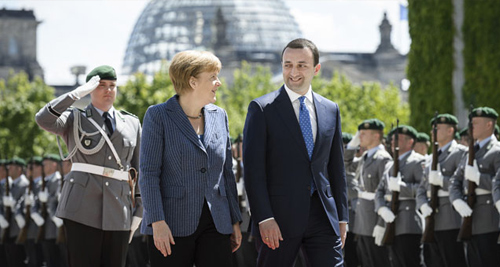 German Chancellor Angela Merkel welcomes Georgian Prime Minister Irakli Garibashvili with military honors in the Federal Chancellery in Berlin, June 2, 2014. Photo: Bundesregierung/Steins
After meeting with Georgian PM Irakli Garibashvili in Berlin on June 2, German Chancellor Angela Merkel hailed Tbilisi for pursuing EU integration path while at the same time trying to normalize ties with Russia through "pragmatic" policy and welcomed the Georgian authorities' efforts to improve investment conditions in the country.
Merkel, however, also said that she does not think a Membership Action Plan (MAP) for Georgia will be on the agenda of NATO summit in Wales in September.
It was the second meeting between the German Chancellor and the Georgian PM in less than a week. Garibashvili met Merkel in Berlin together with his Moldovan and Ukrainian counterparts, Iurie Leanca and Arseniy Yatsenyuk, respectively, on May 28.
"Today we talked extensively about the bilateral relations," Merkel said at a joint news conference with the Georgian PM on June 2.
"Our countries have a very good, friendly relationship, and we are glad that Georgia is moving closer to the European Union, which will be demonstrated by signing of the Association Agreement [on June 27]," the German Chancellor said.
"On the other hand we also see that Georgia has invested a lot of effort to step-by-step develop relations with Russia," Merkel added.
She said that Georgia's example of following EU integration and at the same time trying to seek better relations with Russia was showing that it's not about "either/or" choice.
Merkel also said: "I support Georgia's very pragmatic approach in its ties with Russia."
On bilateral relations she said that more should be done to develop economic ties and added that Germany will encourage its companies to seek investment opportunities in Georgia.
"Georgia has very good conditions for it," Merkel said, adding that there was a sense of "instability" over Georgia due to conflicts in Abkhazia and South Ossetia, which, she said, were deterring factors for investments.
"We should note it clearly that the present Georgian government is improving country's credibility, including its legal framework," the German Chancellor said.
PM Garibashvili hailed the meeting with Chancellor Merkel as a "milestone" in the Georgian-German relations.
"I am glad that we were able to discuss very important issues for Georgia," he said. "We especially appreciate Germany's firm support towards Georgia's territorial integrity."
He said that the Association Agreement, which Tbilisi plans to sign with the EU on June 27, will help Georgia "in becoming a full-fledged member of the European family." PM said that Georgia's internal reforms, including judiciary, human rights and rule of law, were also discussed.
On ties with Russia, PM Garibashvili said that he informed the German Chancellor about Georgian government's "efforts to improve relations with Russia."
"After coming into government we have undertaken many constructive steps, which yielded concrete results and this constructive policy has demonstrated that Georgia has constructive, predictable and stable government, which is willing to normalize relations with Russia," Garibashvili said. "Our government is motivated, consistent and predictable; we take with responsibility our commitments."
Asked about situation in Ukraine and what he would recommend to the Ukrainian leadership in dealing with Russia, the Georgian PM responded that he hopes Ukraine's newly elected President Petro Poroshenko "will spare no effort to restore peace and stability in Ukraine."
"We of course support Ukraine's territorial integrity," Garibashvili said.
He said that "constructive dialogue is the only and the best way out of any crisis."
"We have managed it. We have proved that we want constructive, normal relations with Russia and that we want to solve all the problems persisting between two countries through this approach," he said.
"We are also setting an example that Georgia can be a country, which wants to join the EU and at the same time to continue constructive policy towards Russia – and this is adequately assessed by the both sides. So I think Georgia is setting an interesting example in the region," he said.
"As far as advice to Ukraine is concerned, my advice would be to launch a constructive dialogue with Russia very soon; solution should be found only through negotiations with the involvement of the international community, including Germany," Garibashvili said.

Also on June 2, the Georgian PM handed over to German Foreign Minister Frank-Walter Steinmeier two 18-century books at a ceremony in the Bode Museum. The books, which were discovered among thousands of others in the Tbilisi University Library, were removed from Germany during the Second World War.
The Georgian PM was accompanied in Germany by Foreign Minister Maia Panjikidze; Economy Minister Giorgi Kvirikashvili; State Minister for European and Euro-Atlantic Integration Alex Petriashvili; Minister for Infrastructure and Regional Development Elguja Khokrishvili; Agriculture Minister Shalva Pipia, as well as vice-speaker of Parliament, GD MP Manana Kobakhidze.