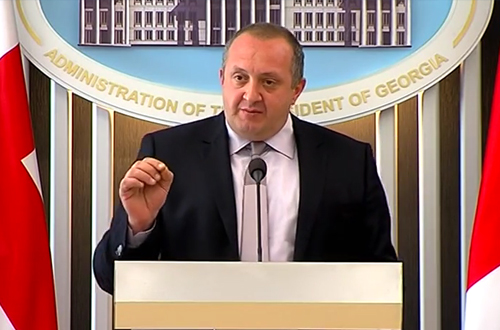 President Giorgi Margvelashvili speaks at a news conference in the presidential palace in Tbilisi, September 11, 2014.
President Giorgi Margvelashvili, who up until now has been resisting government's efforts to dissuade him from going to the UN headquarters simultaneously with the PM, announced on September 11 that his intended visit was "thwarted."
"Serious, organized efforts were undertaken against the visit of the Georgian President and as a result of these efforts the visit to the United States is thwarted," President Margvelashvili said.
His announcement about "thwarted" visit was made at a news conference on Thursday afternoon five hours after extracts from an interview with ex-PM Bidzina Ivanishvili were released earlier on the same day in which Ivanishvili accused Margvelashvili of "obstructing" the government and criticized him for planning to visit the UN simultaneously with PM Irakli Garibashvili, who will be addressing the UN General Assembly.
According to Margvelashvili, who at the same news conference also responded to Ivanishvili's criticism against him, the president's administration was getting no assistance from the government in arranging his visit and although planning was underway only with the resources available for the presidency, the visit was still going to take place.
"But this morning I learned that serious steps would have been undertaken in order for the president not to have an efficient visit… I cannot go into details, but all the important components of the visit are thwarted," said Margvelashvili, who was reportedly also planning trip to Washington after visiting the UN headquarters in New York.

"I think this is a wrong step, which has been taken against the presidential institution; I think this is a step, which was made not because of state interests, but because of certain confrontation between [state] structures," he said.
"If we go down that road and if we try to monopolize any branch of the government – be it the presidency or others, I think we will receive what we disliked so much about Saakashvili's regime," Margvelashvili said.
Earlier this week he complained that the Foreign Ministry was creating "difficulties" in his correspondence with the UN and said that the ministry has to perform duties not only for the government, but "for the state." "And the head of the state is the President," Margvelashvili said.
On September 10 Foreign Minister Maia Panjikidze met the President in what was seen as an attempt by the minister to convince him to give up with the visit, arguing that having two separate delegations simultaneously – one led by the President and another one by the PM – would have been "embarrassing" and "damaging" for the country's image. But after that meeting on September 10 President's foreign policy adviser, Tengiz Pkhaladze, said that the visit was going to proceed.
Other cabinet members, among them Defense Minister Irakli Alasania, who was Georgia's ambassador to the UN in 2006-2008, were also saying that having two separate delegations would not be appropriate. State Minister for European and Euro-Atlantic Integration, Alexi Petriashvili, sought to paint President Margvelashvili as obstinate and wrote on his Facebook page that the President "is insisting on the visit like a stubborn child."
When commenting about, as he put it, "increased criticism" in his address coming from the government, as well as from ex-PM Ivanishvili, Margvelashvili focused at the news conference on September 11 on his role as of the President under the constitution, suggesting that simply performing his constitutional duties is perceived as if he is confronting the government.
"I want to respond to my criticism coming from the government and batoni Bidzina Ivanishvili and to reassure everyone that this is not about personal confrontation; this is about very principled attempts of the President and his administration to genuinely establish functional democracy in Georgia," Margvelashvili said.
"Functioning democracy means that all the state institutions – the legislative and executive branches, judiciary, the president – perform their duties. My position is stemming from this principle. There was not a single instance when I took a politically confrontational step. My efforts have been and will be directed towards strengthening of all the institutions equally."
"Road of democracy building is difficult. When on this road one branch of government exercises its powers within its mandate, it is often perceived as a confrontation. But again I want to remind everyone that this is not a confrontation, this is democracy and democracy is difficult, but we will reach that point," Margvelashvili said.
Asked how he sees future relations between the presidency and the government after these recent developments, Margvelashvili responded: "I serve the country within the constitutional framework and I serve the purpose to strengthen democracy."

"Putting the presidency into silent mode would be a step not against president's institution, but a step against the Georgian democracy," he said.
He said he will always speak out if there is a meddling in presidential competences or if he thinks that existing constitutional model of separation of powers is not respected.
"Those who think that there should be an absolute unison [between the presidency and the government] and there should be no normal balance between the branches of government and instead power should be pulled in one direction, do not understand well what democracy means," President Margvelashvili said.
In his interview with weekly newspaper Kviris Palitra, extracts of which were released by Palitra media holding early on Thursday, Ivanishvili slammed Margvelashvili, among other things, for, as he put it, viewing the government as his "competitor."
"It's a bit strange for the president to be anyone's competitor," Margvelashvili responded smiling. "The President is not in a competition; the President has his powers and responsibilities."
Asked if he's planning his own political team, Margvelashvili responded: "I am at the peak of my political career – I am the President of Georgia and I have huge obligations."
"I don't need to have my political force in order to perform my duties," he said.
"I think that I have full opportunity and resource to explain to the society how Georgia should develop in future," Margvelashvili said. "Georgia is a democracy and democracy means that no one is a director – power is distributed between the branches of government."
During the press conference Margvelashvili countered Ivanishvili's description of Georgia's current constitutional model as "parliamentary republic."
"I think batoni [a Georgian polite form of addressing a man] Bidzina is receiving one-sided information. Georgia is not a parliamentary republic; it is semi-presidential," Margvelashvili said.
The existing constitutional model, which was enforced when Margvelashvili was inaugurated as the president, marked shift from previously rather presidential system to a mixed one where the executive power is concentrated within PM and government, which are accountable to the Parliament. President is head of the state, representing Georgia in foreign relations and is also the commander-in-chief. Although under the new constitution presidential powers are significantly reduced, president's political role significantly increases in case of non-confidence vote to the government.