Georgia is 'at the dawn of a new day';
'Our foreign policy is making us more secure';
'We are a much stronger nation than we were two years ago';
'We have restored the rule of law;'
'No one stands above the law';
IDPs – 'top area of concern';
'Efforts to extend olive branch to Russia not met with same spirit of cooperation';
'Developments in Ukraine tear our hearts'
EU, NATO – 'main pillars of Georgian foreign policy';
PM calls for high-level Silk Road forum in 2015;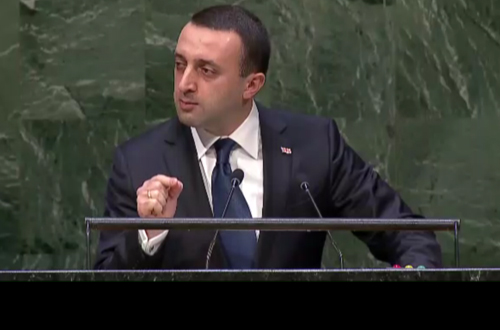 Screengrab of Georgian PM Irakli Garibashvili addressing UN General Assembly, New York, September 26.
Addressing UN General Assembly on September 26, PM Irakli Garibashvili said that Georgia is now "another world compared to that of two decades ago, or even two years ago", which has "advanced dramatically" and "restored the rule of law."
He started his 20-minute speech by speaking about what he called Georgia's "unwavering transformation to freedom, democracy, and economic development," then continued by addressing foreign policy issues, among them Ukraine and his government's "pragmatic" two-track engagement strategy with Russia, and ended his speech by speaking on Georgia's transit potential and the need to "fully revitalize" Silk Road.
'True Democracy'
PM Garibashvili said Georgia is "now at the dawn of a new day" as "democratic institutions are stronger, our foreign policy is making us more secure, and our growing economy is working to benefit all Georgians."
"I am fortunate to be part of a new generation of Georgians who grew up in the years after the Cold War," Garibashvili, 32, said. "My entire life is one of being part of remarkable change."
"We are a vastly stronger nation than we were twenty years ago and we are a much stronger nation than we were just two years ago," he said. "Every sector of our country has advanced dramatically, from health care and education to the economy and rule of law.
"Despite all the challenges we have faced, the citizens of Georgia are full of hope," he said and added that in the past two years, since the Georgian Dream coalition, which Garibashvili now chairs, came into power, "we have taken concrete steps to break the vicious cycle of government corruption, impunity, and an economy that only benefited a few."

"We have created a true democracy with a system of governance that is more open, more accountable, [which] upholds the rule of law," the PM said. "And because Georgia's democracy was hard-won, there is no going back."
"We have restored the rule of law by establishing an independent judiciary and instituting more rights to defendants. We ended impunity by government officials and torture and abuse in our prisons."
"All Georgians are now equal before the law, and no one stands above the law and everybody will have the benefit of a judicial process that meets the highest international standards," he said in remarks, which have become ruling Georgian Dream coalition's standard response to international concerns that have been voiced over criminal prosecutions against former senior government officials and ex-president Mikheil Saakashvili.
"Our goal is to unify society through the rule of law and democracy," Garibashvili said.
He also said that the Parliament "now functions like a true legislature" and "the old rubber stamp has been thrown away."
"I believe Georgia's democratic transformation can serve as a model for other countries," said the PM, but also noted that Georgia is "still a young democracy and much remains to be done."
'Top Area of Concern'
Garibashvili said that the issue of internally displaced persons is "a top area of concern" for Georgia.
"There are hundreds of thousands of IDPs in Georgia as a result of Russia's military aggression," he said.
He also mentioned a non-binding resolution on return of IDPs, which is tabled annually since 2008 at the UN General Assembly by Georgia and said that "it is essential" to maintain this humanitarian issue on the agenda of the UNGA and "support the rights of the forcefully displaced with strength and conviction."
Russia voices its strong opposition against this resolution, which was adopted by UNGA this June for seventh consecutive year, and de facto authorities in Sokhumi and Tskhinvali are citing Tbilisi's efforts to push the resolution at UN as the reason behind their unwillingness to discuss IDPs issue at the Geneva talks.
In his speech the Georgian PM made an appeal to residents of breakaway Abkhazia and South Ossetia and said: "Dear brothers and sisters, I dream of the day when we all live together in peace and prosperity. We are committed to the path of reconciliation and restoring Georgia's full territorial integrity and sovereignty. We must work to find a way for you to participate in our success, including the benefits of our new EU Association Agreement."
"Let me be clear, Georgia will never sacrifice its territorial integrity and sovereignty," he said. "However, we will continue to look for pathways to reconciliation with our brothers and sisters in Abkhazia and South Ossetia."
'Pragmatic Double-Track Engagement with Russia'
The Georgian PM said that Tbilisi wants "a good relationship with Russia, but never at the expense of our sovereignty and independence, which we fought so hard to achieve."
Garibashvili said that in respect of Russia, his government is pursuing a policy different from the one of previous Georgian authorities.
He described this approach as "two-track engagement strategy based on being a responsible, pragmatic, and constructive neighbor." Such approach, he said, "has also increased stability in the entire South Caucasus region."
On the first track, the PM said, Georgia started an "unconditional dialogue" with Russia on trade and economic issues, which produced "significant results" as Russia reopened its market for Georgian products.
"On the second track, we have continued to seek a peaceful settlement of the August, 2008 war and the end of Russian occupation of Georgian territory, based on the fundamental principles of international law," he said.
"However, Georgia's efforts to reduce tensions and extend the olive branch to Russia have not been met with the same spirit of cooperation," Garibashvili said.
"We have taken every constructive step. Now it is time for the Russian government to stop the occupation and start on a path to lasting peace," he said and also called on Moscow to fulfill its obligations under the 2008 ceasefire agreement.

'Developments in Ukraine Tear Our Hearts'
PM Garibashvili said that Georgia is "doing everything we can to help our friends" in Ukraine, including through providing humanitarian aid, political support and sharing experience of implementing reforms.
Reiterating support to Ukraine's territorial integrity, Garibashvili said that developments there "tear our hearts."
"We hope that the recent peace treaties will put an end to the military operations once and for all, and mark the beginning of an irreversible peace-making process," he said.
EU, NATO – 'Pillars of Foreign Policy'
He said that the United States "is a key strategic ally of Georgia."
"The relationship between our countries at all levels of government has never been stronger," the PM said.
Garibashvili said that EU and NATO aspirations are "the main pillars of Georgia's foreign policy."
He said that over the past two years, Georgia "has made significant progress that reinforces our path to eventual NATO membership."
Noting that Georgia is the largest non-NATO troops contributor in Afghanistan and that it also has troops in EU military mission in the Central African Republic, Garibashvili also said that Tbilisi is ready to stand with its allies in "combating all forms of terrorism and organized crime, anywhere in the world."
In his speech he did not mention anything about specifically Georgia's potential role in anti-Islamic State coalition. On September 25 he told journalists in New York that Georgia's contribution will be only "symbolic."
The PM said that apart of contributing troops to international missions, Georgia is also serving as "a global security provider" by taking "a rational approach to reducing regional tensions and preventing conflict."
Silk Road Forum
Garibashvili also spoke about Georgia's transit role and said that more efforts are needed for countries in the region and beyond in order to "fully unlock the potential of new Silk Road."
"The potential for the region is great, but more is needed to turn potential into reality. Georgia is ready to use its location as a strategic crossroads and do its part to fully revitalize the Silk Road," the Georgian PM said.
He called for launch of Silk Road Forum next year, involving an annual high-level meeting of all interested states in order to "move beyond discussions to action."
"We have deepened cooperation with Turkey, China, Kazakhstan, Azerbaijan, Armenia, Turkmenistan, Uzbekistan, and Afghanistan to integrate transportation corridors and open new routes that will bring goods from Asia to Western Europe in record time," he said.