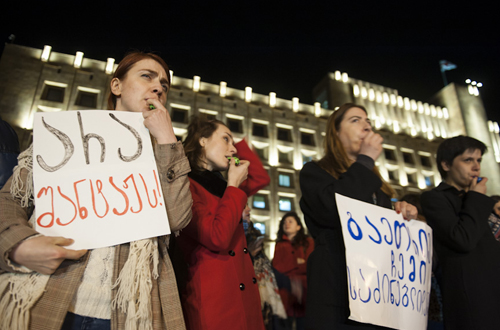 Participants of a small impromptu rally outside government headquarters in Tbilisi, condemning leak of a secretary filmed sex tape, hold posters reading: "No to Blackmail" and "Get Out of My Bedroom", March 11, 2016. Photo: Eana Korbezashvili/Civil.ge
A secretly recorded sex tape, purportedly showing one of the opposition politicians, posted anonymously online on March 11, has again raised serious concerns over privacy rights, caused widespread outcry and calls on the government to immediately investigate the case and hold accountable those behind filming and releasing of the video.
A Georgian news agency, which in its report on the leaked video identified a person, who purportedly was seen on the tape, also came under fire, forcing the media outlet to sack one of its editors.
The video was available on YouTube before it was removed; the Georgian State Security Service said that the video sharing website "blocked" the video after its intervention.
"Efforts are underway to find out who posted video footage of private life illegally online ," the State Security Service said.
PM Giorgi Kvirikashvili summoned heads of the law enforcement agencies, including Interior Minister; Head of the State Security Service and Chief Prosecutor, and "instructed them to immediately investigate" the case, his office said.
The rights groups, and some opposition parties, have said that a failure of the authorities to address properly similar cases in the past and ignoring allegations voiced previously by some public figures about being threatened with releasing of videos of their private lives, has exacerbated concerns over the privacy rights.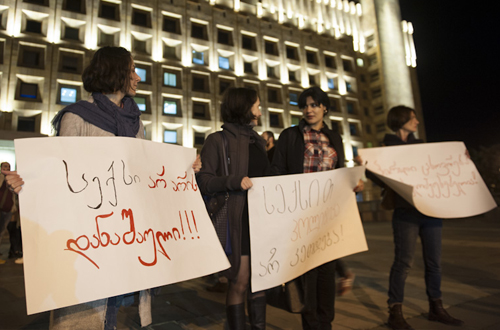 Participants of a small impromptu rally outside government headquarters in Tbilisi, condemning leak of a secretary filmed sex tape, hold posters reading: "Sex is not a crime", March 11, 2016. Photo: Eana Korbezashvili/Civil.ge
Addressing law enforcement agencies, Parliament Speaker Davit Usupashvili said in a statement: "We should face the truth and admit that we are failing to tackle this terrible problem through technical and other means available to us."
He called on the law enforcement agencies to appeal international partners for assistance in the probe and to also offer GEL 1 million reward for providing any information leading to those behind leaking of the video.
In May, 2013 then first deputy interior minister, Gela Khvedelidze, was charged with breach of privacy in connection to leaking of a secretly recorded sex video, purportedly showing a man who was accusing Khvedelidze and some other officials of corruption. A year later he was given one-year conditional, non-custodial sentence, for breach of privacy rights. The leaked video was from large cache of recordings, which were gathered through illegal surveillance in 2007-2012, and which, the Interior Ministry claimed, were destroyed in September 2013.
UNM opposition party said in a statement: "Use of dirty methods in political struggle should be over in Georgia. Releasing videos of private lives has become the main weapon against opponents under the governance of [ex-PM] Bidzina Ivanishvili and the Georgian Dream [ruling coalition]. Failure to investigate dozens of such cases and to hold culprits accountable is contributing to [existing situation]. A perpetrator has gone unpunished even when obviously identified – a clear example of that is former deputy interior minister. It should also be noted that in all those cases media sources openly affiliated to the government were contributing to distribution of the recordings."
"We declare that this dirt should be over and it will be over after the defeat of Bidzina Ivanishvili and the Georgian Dream in the October, 2016 [parliamentary] elections, as well as through real reform of the law enforcement agencies, including by scrapping of the State Security Service, and eradicating impunity," the UNM said.
Republican Party, a member of the Georgian Dream ruling coalition, said in a statement that release and distribution of videos of private lives has become "extremely dangerous" trend, which is "destructive" for a country having European integration ambitions.
"It will be very difficult for us to convince anyone either within the country or outside that the government is not complicit in [the release of videos] if this practice continues and if perpetrators are not identified," the Republican Party said.
Tbilisi-based election monitoring group, International Society for Fair Elections and Democracy (ISFED), said that leak of such video recordings, especially in the election year, "is an attempt to blackmail politicians, political parties and other stakeholders."
"This is a direct and terrible blow for fair electoral environment, rule of law and human rights in this country; it should be immediately investigated and all the persons involved in this terrible crime identified," said Ana Natsvlishvili, the head of the Tbilisi-based legal advocacy and watchdog group, Georgian Young Lawyers' Association.
The way how some media sources reported about emergence of the video on the internet has also caused controversy.

In its report, Georgian news agencies, InterPressNews, part of the Palitra media holding, identified one of the persons purportedly shown in the video and also a name of the video under which it was uploaded on YouTube. The news agency removed the report from its website shortly after it was posted and later also apologized and said it "acknowledges its mistake."
Condemning how the news agency reported about the video, Defense Ministry, Justice Ministry and President's Office, as well as Tbilisi-based Rustavi 2 TV said they were terminating cooperation and contracts with the InterPressNews.
Later in the evening the news agency announced that it sacked an editor "responsible for posting" the news in question on the website.