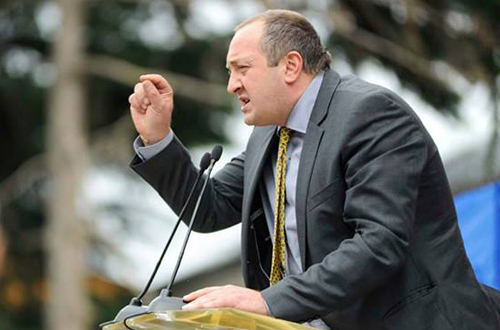 GD presidential candidate, Giorgi Margvelashvili, addresses supporters during a campaign rally in the town of Marneuli on October 19. Photo: Margvelashvili's campaign office
GD presidential candidate Giorgi Margvelashvili reiterated that he is absolutely convinced in winning election in the first round and that there will be no runoff, but if "a theoretical question" is still asked what he would do in case of runoff, Margvelashvili said, he "will not participate in the second round."
He said that the second round is an "illusion", because if one assumes that such a scenario is possible, it would mean that voters are "missing" those times when outgoing President Saakashvili's UNM party was in power.
"Saying that Georgian voters are missing those times when police were knocking on their doors to tell them not to go to elections, that people are missing times of dictatorship and the business is missing those times when they were under government's control… is in itself absurd. So I am telling you that there will be no second round," Margvelashvili said in an interview with the Georgian public TV's Second Channel on October 18.
"But if still asking what if there is a second round and imagining it theoretically – we are not living in a theoretical and virtual world, it's a real world and in this real world voters delivered its verdict [in 2012 elections] to depravity that was in Georgia for nine years [referring to UNM's rule] and will deliver its verdict again in upcoming [presidential election]," he said.
"But if anyone still wants to ask this theoretical question [about the second round], I will respond that I am so convinced that the verdict is already in place against that past, that if there is a runoff I will not participate in the second round," Margvelashvili said.
"That's what Bidzina Ivanishvili said and I reiterate it too," he added.
"We are acting in line of our joint plan," he continued. "Everyone knows what this plan is about… Ivanishvili's [intention] to move [from government] into the civil society is part of this plan… Responsibility that I assumed [to run for president] is also part of this plan; so we speak same language and we have same vision, which makes us strong," Margvelashvili said.
"So if I am asked what happens in case of the second round, I say: I have such a big guarantee that everything will be over in the first round, that if there is a second round, I will not go there – I am saying it clearly, explicitly and by doing so I am giving a guarantee to our voters that because of a high voter turnout we are wining in the first round and a question about return back into the past is completely crossed out," the GD presidential candidate said.
Margvelashvili touched upon this issue again when addressing supporters during a campaign rally in Rustavi on October 19 and said: "How can we say no to the second round? Quite easily – as much as you trust your nation. I am saying no to [the runoff] because I trust you and not out of any arrogance. I am rejecting it because I trust you. By doing so I clearly show that there are no question marks whatsoever."
According to the election code, a candidate willing to withdraw from the race has to formally notify in written about it the Central Election Commission (CEC) ten days before the vote.
For instance, deadline for notifying CEC about pulling out of race for the October 27 presidential election expired on October 17 – none of the 23 candidates standing in the race withdrew. But if a candidate declares about quitting the race now, he or she will still be included on ballot papers for the October 27 vote.
The same procedure applies if the election goes into the second round, according to the CEC.
If a candidate, who makes it to the second round, wants to withdraw from the race, has to notify about it CEC ten days before the day when the second round of vote will be scheduled.
If a candidate does so, his or her name will be removed from ballot papers.
Only a name of a remaining candidate will be put on ballot papers and this candidate will be declared the winner of the runoff and, consequently, president-elect if he or she "receives even one vote," Eka Azarashvili, CEC spokesperson, told Civil.ge on October 19.
She says that in case of second round, if a candidate willing to quit the race, does not notify CEC about it in a written form and only makes a verbal declaration, his or her name will still be included in ballot papers and a candidate receiving more votes than other will be declared the winner.