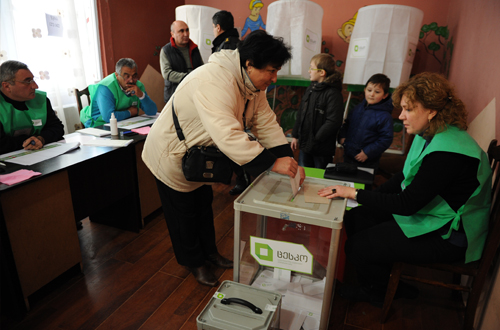 A voter casts ballot in presidential election on October 27 in one of Tbilisi's polling stations in the Didube district. Photo: Eana Korbezashvili/Civil.ge
Polling stations are opening across the country from 8am local time on Sunday for presidential election.
While GD presidential candidate Giorgi Margvelashvili is clearly a frontrunner in the race, which also includes 22 other candidates, probably the major intriguing aspects of the vote is whether the race goes into second round or not.
Davit Bakradze of UNM, who was parliament speaker in 2008-2012, and Nino Burjanadze, also a former parliament speaker in 2001-2008, are two other main contestants.

The race took a new twist after PM Ivanishvili said on October 17 he would advise Margvelashvili to pull out from race if the vote goes into second round; since then GD presidential candidate reiterated for number of times that he's convinced of winning in the first round, but he will withdraw from the race in case of run-off.
For the UNM the upcoming election is mainly about reaffirming its status of the major opposition force in the country, which can be achieved if Bakradze and not Burjanadze becomes a runner-up.
President elected for a five-year term in this election will be the fourth one in Georgia's history, replacing incumbent Mikheil Saakashvili, who has been in office since January, 2004.
It will be the first time in Georgia when incumbent president is replaced through elections after serving second term in full.