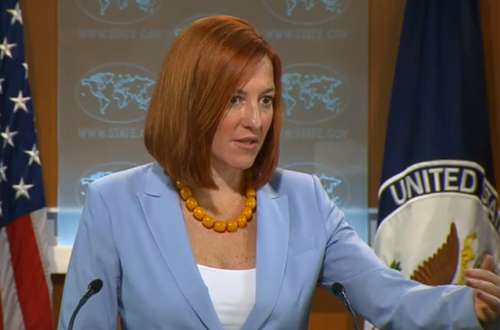 U.S. Department of State spokesperson Jen Psaki speaks at a daily press briefing in Washington, DC., November 6, 2014.
Reiterating "strong concerns about political retribution" in Georgia, U.S. Department of State spokesperson, Jen Psaki, also said on November 6 that those concerns are "more specific domestically" and not broader over Georgia's European and Euro-Atlantic integration course, although events on the ground "pose challenges to that process."
"Clearly, when there are multiple, simultaneous investigations against former government and current opposition officials happening, that raises strong concerns about political retribution. And it is essential to avoid even the perception that the judicial system is being used in a politicized way and for political purposes," she said at a press briefing.
A day earlier in a written statement the U.S. Department of State noted with "concern" PM Irakli Garibashvili's decision to dismiss Defense Minister Irakli Alasania and his deputy ministers, and the subsequent resignations of State Minister for European and Euro-Atlantic Integration and Foreign Minister. Firing of Alasania came after the latter's reaction to arrest of and criminal investigations against MoD and general staff officials, which Alasania condemned as "politically motivated" and described as an "attack on Georgia's Euro-Atlantic choice."
Echoing the State Department's statement, Psaki reiterated on November 6 that at a time of "regional turmoil and domestic economic challenge, what Georgia needs most is stability, unity, implementation of due process and rule of law, and public confidence in democratic institutions."
Asked if PM Garibashvili's comments, that recent events are purely domestic issues, which will not affect Georgia's foreign relations, helped to set U.S. concerns at ease, Psaki responded: "The fact is investigations against former government officials and current opposition officials continue. So I think actions sometimes speak louder than words in this case."
Responding to a question whether the U.S. is concerned that Georgia might be drifting away from the European and NATO integration, the State Department spokesperson said: "No."
"But obviously, events on the ground pose challenges to that process," Psaki added.
Asked again to specify if the U.S. concerns are limited to the domestic issues related to use of judiciary system for political purposes, or the concerns are broader over Georgia's foreign policy course, particularly in light of developments in Ukraine, Psaki responded: "It's more specific domestically."
"Obviously, we want to see Georgia succeed and continue to succeed," she said. "Leaders working together for the future of their country is an important component of that."