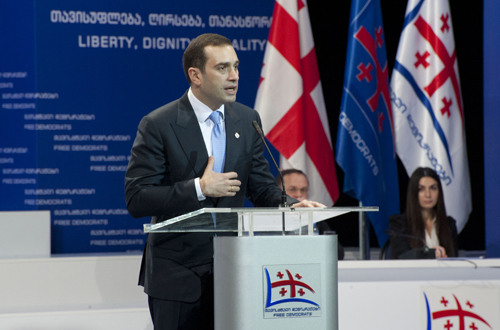 Ex-defense minister Irakli Alasania addresses congress of his Free Democrats party in Tbilisi, November 8, 2014. Photo: Eana Korbezashvili/Civil.ge
Ex-defense minister Irakli Alasania, who was elected on November 8 as chairman of the Free Democrats (FD) at a congress of the party he founded five years ago, said he hopes FD "will celebrate victory together with people" in next parliamentary elections in 2016.
Addressing the congress of FD party in Tbilisi, Alasania, who was the only candidate for party chairmanship, spoke about the need of upholding democratic values, saying that the state "should be based on fair laws and not on the will of one man." He said that "hatred, tension, disrespect and revenge" should no longer be part of the politics. He also spoke about Russia and said that its "imperial fundamentalism" is Georgia's "sworn enemy."
Alasania said that defeat of "undemocratic regime" of then ruling UNM party in the 2012 parliamentary elections by the Georgian Dream coalition created opportunities, but it did not mean that "everything has been sorted out and that democracy has finally prevailed and the state and ruling party are separated."

"From now on we are moving to a new political space," Alasania said. "Free Democrats, as an opposition force, should not give a rest to the government and those institutions, which will turn away from the path of serving their own people."
"But at the same time we will be fully supportive to everyone – whether in the government or beyond – who are committed to our society and who will lead our country on the path that will ultimately bring us to democratic, free and protected state."
He said that he plans to tour Georgia and visit "each family, each region, each district and through discussions with them we will create our country's social-economic development plan," which will be tailored to the specific needs of each region.
"We will submit such bills to the Parliament, which will never allow security agencies to be in charge of [local] politics instead of self-governance bodies, which came to power through democratic [2014 local] elections," he said.
"We will lobby the interests of teachers, scientists, business people, non-governmental organizations, who defend these values and today I want to open the space for cooperation together with you, who sincerely believe in and defend these values," Alasania said.

He also thanked "everyone" in the ruling Georgian Dream coalition and said that "we, Free Democrats, should be grateful for those two years, which we spent together with the coalition."
"It was a result-oriented, well-planned activity, which yielded results with our participation and the result is that we have irreversibly entered the path to the European integration," he said. "As a result of these activities, our relationship with NATO is firm and the package, which Georgia received from NATO [at the Wales summit], will guarantee not NATO membership – as NATO itself does not represent a supreme value for us – but will guarantee to be capable to defend our independence."
"And when we saw that Georgia may face a threat, when we saw that shadow was cast on Georgia's defence capability, we spoke out loud that we will not let it happen," Alasania said.
Free Democrats, which was among the founding members of the Georgian Dream, quit the coalition after Irakli Alasania was sacked from defense minister's post following his reaction to arrests of MoD and general staff officials, saying that it was "politically motivated" and an "attack on Georgia's Euro-Atlantic choice."
After Alasania was sacked from the government, his close ally State Minister for European and Euro-Atlantic Integration, Alexi Petriashvili, and Alasania's sister-in-law, Foreign Minister Maia Panjikidze resigned. Panjikidze also quit Georgian Dream-Democratic Georgia, leading party in the ruling coalition, and at the congress of FD on November 8 she was elected in party's main governing body, along with Petriashvili and MP Shalva Shavgulidze, who also quit Georgian Dream-Democratic Movement to join FD.
Free Democrats congress and election of Alasania as its chairman, the post he quit after he was appointed as defense minister in late 2012, had been planned long before the recent crisis hit the ruling coalition.
Leaders of the Republican Party, one of the five parties remaining in the GD coalition, were present at the FD's congress, among them parliament speaker Davit Usupashvili, who said in his speech that the Republican Party will remain FD's partner.
In his speech Alasania welcomed presence of the like-minded, liberal Republican Party leaders and said that "their support" and "doing work jointly with them to the benefit of the country is a great honor."
Russia's 'Imperial Fundamentalism'
In his speech Alasania condemned what he called Russia's "imperial fundamentalism", which, he said, is Georgia's "sworn enemy" from which the country suffered in early 1990s during the armed conflicts in Abkhazia and South Ossetia, as well as during the August 2008 war, when "as a result of Russia's aggression we lost our territories along with the lives of many of our citizens."
"Today Russia continues implementing its imperial fundamentalist ideas and plans in Ukraine. Georgia will not be able to resist it alone; Georgia will cope with it only if the society unites and what is most important, if our friends, western developed countries stand beside us. I pin hopes on their assistance," Alasania told the congress also attended by Tbilisi-based foreign diplomats.
Addressing the congress, one of the FD's leaders, Alexi Petriashvili, said that while in government Alasania and his allies played "a decisive role" in achieving success on the path of European and NATO integration.
Using football terms, Petriashvili said FD "will score the winning goal against our external enemy and those, who will make an assist, are sitting here."
"Today, we, as the opposition party, challenge the government in the competition, which will definitely have happy ending. Dear government, this is a home match for you and referee [apparently referring to ex-PM Bidzina Ivanishvili] is perhaps yours as well, but the ball is round; we promise that we will play with rules of the game and we demand the same from you," Petriashvili said.