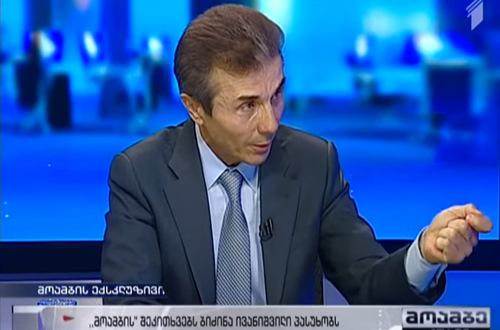 Screengrab from the Georgian Public Broadcaster's Channel 1 interview with ex-PM Bidzina Ivanishvili, November 8, 2014
Ex-PM Bidzina Ivanishvili said on November 8 that by becoming chairman of the Free Democrats (FD) party, ex-defense minister Irakli Alasania is damaging FD as he has yet to answer "serious questions" about how a tender, which is currently being investigated by prosecutors, was handled when he served as the defense minister.
Suggesting that FD's withdrawal from the ruling coalition might be good in a long-term perspective as it can lead to emergence of a "constructive opposition", Ivanishvili said in an interview with the Georgian public broadcaster on Saturday evening that he discussed this issue when he met Irakli Alasania on November 6.
During the hour and a half long interview he also spoke about PM Irakli Garibashvili, whom he praised for "efficiency", but also criticized him for calling ex-defense minister Alasania "stupid and adventurer", attributing this "mistake" of Garibashvili to latter's "political inexperience".
Ivanishvili also criticized President Giorgi Margvelashvili for his decision to veto a controversial bill on delaying for four months adoption of key part of surveillance regulation, as well as for suggesting that Ivanishvili rules the country "from the backstage."
TV Talk Show to Fill 'Vacuum of Proper Analysis'
The first question during the interview was if one of the most popular figure Irakli Alasania's decision to quit the Georgian Dream coalition was a surprise for him. Ivanishvili started his response by speaking about "one of the projects" he's currently working on and which, he said, aims at addressing "vacuum of proper analysis."
He said that many "mistakes" and "misinterpretations" of developments in the country are caused because of lack of the "proper analysis" of current events. He said that Rustavi 2 TV, which is "directly agitating in favor" of the opposition UNM party, is still setting the tone, contributing to these "misinterpretations" of events.

"There is a vacuum in objective information and objective analysis, which misleads many experts," he said and added that he is already addressing this issue by "preparing analysts".
Ivanishvili said that he has launched a new organization called "2030" – previously he has said for multiple times, before and after the 2012 parliamentary elections, that Georgia would require at least 20 years to develop into a genuinely European state. Ivanishvili said that apart of "preparing analysts", the organization will also be engaged in developing long-term strategies for country's development with the view of year 2030.
He said that an hour-long TV program, which was first announced four months ago, would have the same name "2030", which he would co-host with three "analysts" once in a week.

Ivanishvili said that this TV program will help to "fill the vacuum of proper analysis" and will also aim at "helping society to properly analyze events."

"Very often events are being misinterpreted and what I am saying is that we will be able to deliver proper analysis of the events to the public and every event will be given proper assessment and analysis… I will help politicians to analyse events properly and the public will make right accents about all the events," Ivanishvili said.
Last month he said that he was planning to launch the TV program before the New Year, but now he said that he's not in a hurry.
'Not a Govt Crisis, but Crisis in Coalition'
Speaking about the recent developments – arrest of MoD and general staff officials on October 28, condemned by then defense minister Irakli Alasania as "politically motivated" and an "attack on Georgia's Euro-Atlantic choice", followed by his sacking and then by resignations of foreign minister and state minister for Euro-Atlantic integration, eventually leading to quitting of Alasania's Free Democrats party from the Georgian Dream coalition – Ivanishvili said that these events were not "a political crisis in the government."
He said it was "undesirable shake" and "maybe there was a crisis-like situation at certain point, but now everything is already settled."
But he also said that it was "a crisis" in the ruling Georgian Dream coalition.

"Of course in a short-term perspective there is nothing good in what has happened, but after everything settles and all the questions are answered, I do not think that it will harm the country in strategic [long-term perspective] and it even might be good. At least we should try to turn it into benefit for the country," he said.
"I don't see anything bad if constructive opposition emerges in the Parliament," he said, but before elaborating further on this issue, he spoke about MoD-related investigations and on, as he put it, "serious questions" in address of Alasania.
'Irresponsible' Allegations
Ivanishvili said that Alasania's reaction to the arrest of MoD and general staff officials was an attempt to politicize the investigation through which he "actually confronted" the prosecutor's office.
One former and four serving officials from MoD's procurement and general staff's communications units were arrested on October 28 and charged with misspending of GEL 4.1 million in an alleged sham tender to lay fiber optic cable last year. Accused men, who are in pre-trial detention deny charges, and Alasania, when he was still the minister, expressed his full support to them by saying that he was convinced in their innocence. On November 4 prosecutor's office pressed more charges against other general staff officials, mainly from its medial unit in connection to a separate case related to foodborne poisoning of soldiers last year. After those fresh charges were filed, Alasania said that recent MoD-related probes were politically motivated and aimed at undermining Georgia's NATO integration.
Ivanishvili said Alasania had "no reason whatsoever" to make such allegations, which he denounced as "irresponsible."
He said that prosecutor's office cannot turn a blind eye if there is a suspicion of wrongdoing. "I have questions" over how MoD handled the tender, Ivanishvili said and added that "hastily" arranged tender and MoD's decision to pay most of the contract cost to a winner company in advance was raising questions.

"The question is why [the MoD] hurried to make payment in advance, when it has no money for ammunition?" Ivanishvili said.
It was 'Wrong' of Alasania to Become FD Chairman
Ivanishvili said that Alasania's decision to become chairman of the Free Democrats party was "wrong." Alasania was elected on the post, which he quit in late 2012 when he became the defense minister, at the party's congress in Tbilisi on November 8.
He said that by becoming chairman of FD party in the condition when "serious questions" exist over how the tender in MoD was handled at the time when he was the minister, will "damage" his political party.
Ivanishvili said he advised Alasania when the two met on November 6 to not to take the party leadership post.
"When there are serious questions in address of [party] leader, he should not burden [with these] questions his party members and should not burden the party itself," Ivanishvili said. "At first he should answer these questions and then return to [chairmanship post]… I repeat that every event will definitely be given a right assessment by 2016 elections."
'I am not Revenge-Seeking Person'
Ivanishvili said that he wants Alasania "to have good future."
"I have nothing personal with Irakli, in general I am not a revenge-seeking person, I am not a weak person to seek revenge, that's not my character," he said.
"I will stand beside any politician, who will take the country in the right direction. I will confront everyone, who makes mistakes and steps damaging the country," Ivanishvili said.
'Wrong Time, Wrong Reason'
"There are many interesting persons in [FD] party. I respect this party very much and in overall bad thing that happened is that Free Democrats quit the coalition at wrong time and for wrong reason,"
"Quitting the coalition itself is not a tragedy at all – it may even bring many positive results for the politics in general by emergence of constructive opponents," Ivanishvili said, adding that such development "might not be bad" at all, especially when "opposition as an institution" has been "devalued" because of UNM.
"Free Democrats were holding one of the leading positions [in the Georgian politics], and I wish them to keep it, but they will face lots of difficulties because of so many mistakes – they should not have quit for the reasons, which they cited," Ivanishvili said.
'Constructive Opposition'
He said that he respects Alasania, but he respects "even more some other members" of the Free Democrats party.
"I wish them success, there are many friends in [FD party]," Ivanishvili said. "There are positive sides to this as well – a constructive opposition will emerge in the Parliament and outside the Parliament."
"I am confident that they will be a constructive [opposition], we spoke about it as well with Irakli [Alasania on November 6]; unlike UNM, there will be no enmity neither in respect of opponents nor in respect of the state and Irakli also emphasized it and I also told him that I, as a person who has a weight in the society, will treat everyone equally, and that my favorite will be the one, who will lead the country in the right direction," he said.

'Back in Politics? God Forbid'
Ivanishvili, who quit PM's post and also announced about quitting politics in November 2013, participated in at least two meetings of GD leadership council held this week in response to crisis in the ruling coalition. On November 6 he met Alasania and next day PM Garibashvili, who before going into politics in late 2011 had spent his entire eight-year working career with entities affiliated with Ivanishvili and his family, spent several hours in the ex-PM hilltop residence in Tbilisi, before heading to a meeting of GD leadership.
Ivanishvili said that his participation in GD's political council was very rare and previously did so when there were heated debates over anti-discrimination bill, which the Parliament passed in May, 2014.
Asked if his return to politics is possible, he responded: "God forbid – something disastrous should happen in order it to become necessary."
He said that the government is working "very efficiently."
Parliament speaker, Davit Usupashvili, said in an interview with Imedi TV on November 7, that he believed back in 2013 and still believes that Ivanishvili should have stayed on his post for at least one more year "in order to make the system work more properly."
When commenting on the recent developments, President Giorgi Margvelashvili said on November 4 that, the country "should be ruled with strong institutions and not from the backstage."
'Allegations of Ruling from Backstage Insulting'
Commenting on these remarks of the President, Ivanishvili said in his TV interview on November 8 that such statement was "irresponsible."
Ivanishvili also said that such allegations were an "insult" both for him and the government.
"Irakli Garibashvili does not deserve at all such [allegation] that he is being ruled from the backstage – he is absolutely efficient Prime Minister, who works round the clock," Ivanishvili said.
"It is just impossible to rule the government from the backstage; who has any slightest idea of management, [knows] that it is impossible to manage the government from the backstage. I was in Ureki [in his private seaside residence] for six months and I've seen Garibashvili only once. Now look at this from my perspective – how [this allegation] insults me. How can you imagine me – with my biography and my past, I did as I said: I came [into power] and then quit… If I wanted to be in politics I could have stayed, who was obstructing me?"
"Why a normal person with common sense – except of [United] National Movement – should have a perception that I rule from the backstage? I had all the legitimate levers to do it [while being PM]. Why one should have such question? I was not responding to these [allegations voiced] by the [United] National Movement, but I am now responding to him [President Margvelashvili]," Ivanishvili said.
"This is an insult for the government and an insult for me too," he added. "Such allegations are insulting and absolutely groundless."
He said that "giving advice" was different from ruling the government and acknowledged advising the PM, adding that there was nothing to hide about it.
But he also added: "As time goes by, Irakli [Garibashvili] is disturbing me less [with requests for an advice] and I am very happy about it. If previously he was calling me on phone once in a month or week, now two months can pass without him calling me."
'Margvelashvili Himself Weakens Presidency'
During the interview Ivanishvili also criticized President Margvelashvili for his decision to veto a bill delaying adoption of a key part of the surveillance regulation for four months. The Parliament had to accept presidential objections and extended deadline for passing the regulation till December 1.
"It seems that the President vetoed the bill just for the sake of vetoing," Ivanishvili said, accusing the President of not communicating his position over the issue with the Parliament when the latter was discussing it.
"I think that he vetoed the bill because he just wanted to use his veto [power], as he wanted to demonstrate that he can do it," Ivanishvili said.
He also criticized the President for his recent visit to Vienna for the participation in the second UN Conference on Landlocked Developing Countries this week.
"He loves [foreign] visits very much – you remember those scandals," he said, referring to Margvelashvili's failed intention to visit UN climate summit in New York.
"Like it was a visit just for the sake of visit [to Vienna], he vetoed the bill for the sake of vetoing," Ivanishvili said and added that it was yet another demonstration that the President wants to be in "competition" with the Parliament and the government.
He then again criticized Margvelashvili for the issues on which he spoke out against the President previously, among them about his decision to move into the glass-dome presidential palace, and for allegedly delaying declassifying part of spending records of ex-president Mikheil Saakashvili.
"I do not have much suspicion that he is in friendship with the National Movement, but his actions and interests are very much consistent with those of the National Movement," Ivanishvili said, referring to the UNM opposition party.
He said that his criticism of Margvelashvili draws controversy with opponents accusing him of trying to diminish the presidential office.
"I want to tell president's advocates not to try to taboo criticism of the president – we should be able to criticize everyone," Ivanishvili said.
"His [Margvelashvili's] actions themselves are weakening presidential institution," Ivanishvili said, adding that Margvelashvili himself is "devaluing" president's office with such decision like his recent veto, instead of trying to increase its role by giving "weight to his words and actions."
Commenting on the debate on surveillance regulation, particularly whether the Interior Ministry should have a direct access to telecom operators' servers, Ivanishvili declined to go into details, but judging from his remarks, saying that the Interior Ministry's position should be taken into consideration taken into view security concern in the region, he seems to be against of depriving the Interior Ministry of its capability to have direct access to telecom operators networks. He also said that no matter what kind of regulation is introduced, people would anyway have a "perception" that illegal eavesdropping persists; he said that this same perception exists in many other even more developed and democratic countries.
Garibashvili – 'Strong Individual, But Inexperienced'
Ivanishvili said that PM Irakli Garibashvili is "a very strong individual and a very strong practitioner."
"Of course he is inexperienced," he said and then added referring to Garibashvili's comments about Alasania calling him a "traitor", "adventurer, stupid and ambitious": "Those remarks he made at a government meeting are absolutely unacceptable; it was a mistake; emotions have to be reined in; it showed that he's politically inexperienced."
"One should not be speaking in such a tone with former friends," Ivanishvili said.
He also added that Garibashvili is "very sincere, very efficient and energetic, who works round the clock."